8th Making Waves
The festival offered the best selection of contemporary Romanian filmmaking, including features, documentaries and shorts, along with retrospectives of Romanian filmmakers, special programs, panels and a book launch.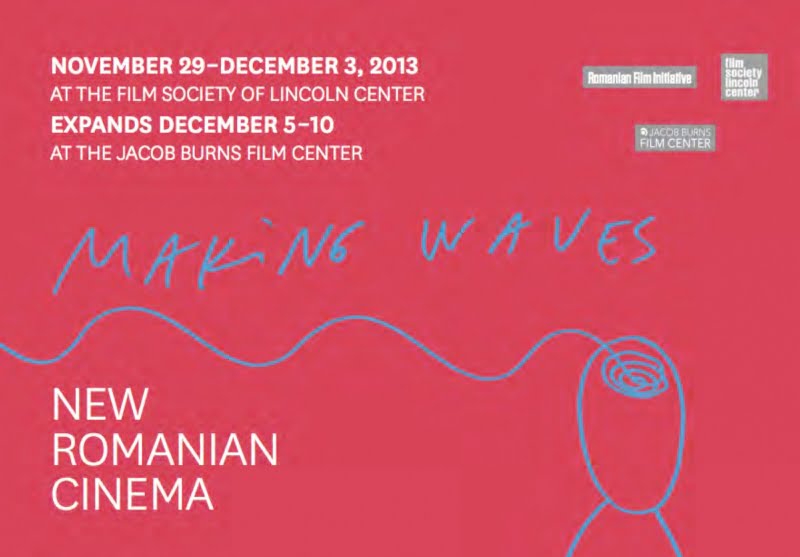 MAKING WAVES 2013 took place at the Film Society of Lincoln Center from November 29 to December 3. The festival offered the best selection of contemporary Romanian filmmaking, including features, documentaries and shorts, along with retrospectives of Romanian filmmakers, special programs, panels and a book launch. This year the series expanded with a selection of the lineup screening at the Jacob Burns Film Center from December 5-10, and continued the partnership with Transilvania International Film Festival.
This year's edition included exciting and critically-acclaimed new works including the World Premiere of the U.S.-Romanian production Closer to the Moon by Nae Caranfil as the opening night film, a true account of high-ranking Jewish members of the nomenklatura, who robbed the Romanian National Bank making it look like a film shoot, the Romanian selection for the Oscar® for best foreign film, Child's Pose by Calin Peter Netzer, and the NYFF51 favorite When Evening Falls on Bucharest or Metabolism by Corneliu Porumboiu which was the closing night film. Equally new werw Domestic, Adrian Sitaru's third and most accomplished film yet, box-office hit Love Building, directed by first-timer Iulia Rugina and two feature-length documentaries: the bittersweet Here… I Mean There by Laura Capatana-Juller (Best Romanian Film at the Transilvania International Film Festival) and the highly provocative The Bucuresti Experiment by Tom Wilson.
Corina Suteu, President of MAKING WAVES, stated, "This year, MAKING WAVES represents for its initiators a landmark, as a Romanian film season striving to make a strong statement about the absolute need for freedom of artistic expression in times when propaganda is more than exclusively the instrument of authoritarian systems. The 2013 edition of MAKING WAVES is also modestly dedicated to the Save Rosia Montana movement of peaceful protests all over the world."
For the second consecutive year, MAKING WAVES was a fully independent festival of Romanian contemporary cinema and culture, made possible solely through the support of private founders and individual donations, including a large number of Romanian artists who believe that audiences at home and abroad deserve unfettered access to the best of Romanian contemporary culture. The series received no public funding from Romanian state institutions.
Mihai Chirilov, Artistic Director, added, "This is our most surprising edition yet. Next to sure bets like Cristi Puiu and Corneliu Porumboiu's newest films, there's the top winner at this year's Berlinale, the world premiere of a Romanian film shot in English with an stellar international cast, a triple dose of genre cinema from the '80s, and last but not least, a provocative documentary that dares to investigate a strange experiment from Romania's recent history."
The 8th edition of MAKING WAVES included a retrospective of the work of Corneliu Porumboiu. In a recent article flagging "20 Directors to Watch" in The New York Times, A.O. Scott wrote, "Mr. Porumboiu is a master of the long static shot, the weary argument and the deadpan existential joke. He fixes his camera on the struggles of minor potentates and midlevel functionaries — a TV host in "12:08″; a detective and his bosses in "Police, Adjective"; a movie director in "Evening Falls on Bucharest, or Metabolism" — and divines the secrets of his society, and of our vain, pathetic species, in the smallest details of speech and behavior."
MAKING WAVES continued its special program "Creative Freedom through Cinema" about the relationship between arts and politics, focusing on film as a propaganda tool then and now, inviting the Czech Republic and Slovakia to join in the conversation. Special screenings of landmark films by Dan Pita, Mircea Veroiu, Stefan Uher and Jiri Menzel have been accompanied by a panel conversation with filmmakers, film historians and curators from the guest countries. Presented in partnership with the Romanian National Film Center, Czech Center New York and the Slovak Film Institute, and with leading support from the Trust for Mutual Understanding.
Included in this programwas the Transylvanians Trilogy, a compelling incursion into the "Red Western" (or "Eastern") genre, produced in Romania in the '80s and directed by reputed filmmakers Dan Pița and Mircea Veroiu. This popular trilogy tells the story of two Transylvanians who go to America to persuade their brother to come back home, and will be presented for the first time to US audiences in its entirety, with brand new prints.
The festival has presented its annual series of short films, a crop of the best recent Romanian short films highlighting directors to watch, along with a selection of the shorts by Corneliu Porumboiu. Other special screenings included Cristi Puiu's Three Exercises of Interpretation, which emerged from an acting workshop led by the director of The Death of Mr. Lăzărescu, and the unusual visual campaign of the 2013 Transilvania International Film Festival which included 20 clips directed by Puiu starring Luminița Gheorghiu.
Luminita Gheorghiu, winner of the 2006 Los Angeles Film Critics Association Award for Best Supporting Actress in a Motion Picture for The Death of Mr. Lazarescu, was this year's special guest. She delivered a pitch perfect performance in Child's Pose. Director Nae Caranfil (The Rest is Silence) joined the festival opening for the World Premiere of his latest film, Closer to the Moon. Corneliu Porumboiu, subject of a festival retrospective, returned to New York for the closing night screening of When Evening Falls on Bucharest, or Metabolism. Other guests included Tom Wilson, writer and director of The București Experiment, Eugen Lumezianu and Oana Rasuceanu, actor and screenwriter, respectively, of Love Building.
Stepan Hulik, screenwriter of Agnieska Holland's Burning Bush and author of Cinema of Forgetting on Czechoslovak cinema, and film curator Irena Kovarova joined the conversation about film and propaganda.
Dominique Nasta, Professor of Film Studies at the Université Libre de Bruxelles, joined the festival for the launch of her recently published book – Contemporary Romanian Cinema. The History of an Unexpected Miracle, the first in-depth analysis of many essential films ranging from the silent period to the present day.
OUR SUPPORTERS
MAKING WAVES 2013 was made possible with the leading support of the Trust for Mutual Understanding, Alexandru Almajeanu and the Genitica Foundation, Serban Savu, Adrian Porumboiu, and more than 200 private donors.
Romanian Wines were courtesy of Terra Firma USA, Inc. Introducing New Wines from the Old World, Cramele Recas S.A., Cramele S.E.R.V.E. S.A. The continuation and expansion of MAKING WAVES has also been supported by an Honorary Board which brought together Scott Foundas, Senior Film Critic, Variety; visual artist Adrian Ghenie; documentary filmmaker and human rights activist Mona Nicoara, and visual artist Dan Perjovschi.
A VISUAL DIARY