12th Making Waves
Nov 30-Dec 7, 2017
@ BAMcinématek & Jacob Burns Film Center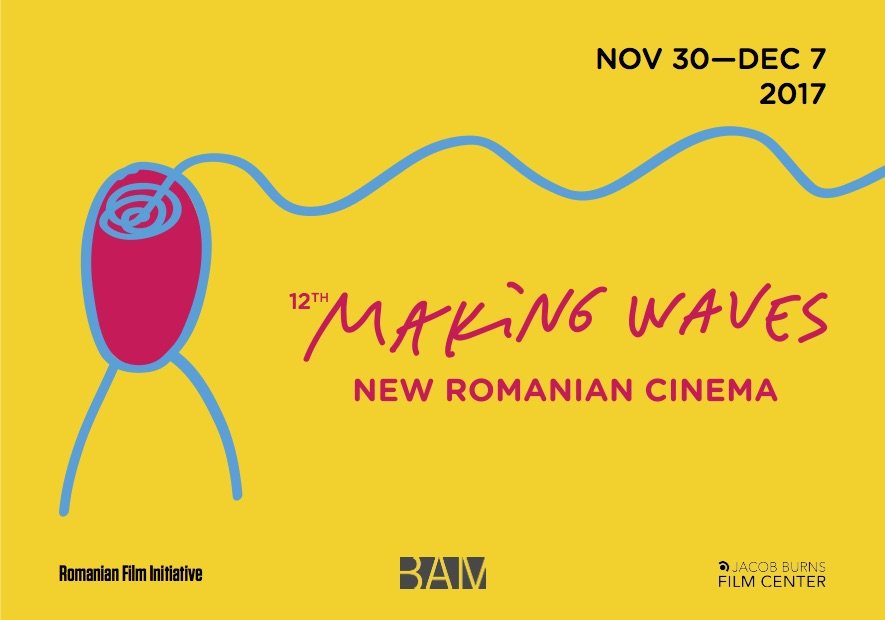 The Romanian Film Initiative, BAMcinématek, and the Jacob Burns Film Center are proud to present the 12th edition of MAKING WAVES: New Romanian Cinema, to take place November 30-December 7, 2017. This edition will mark a change in format, with different and complementary programs presented in the two partner venues.
Showcasing the best new releases from November 30- December 7, the Jacob Burns Film Center in Pleasantville, NY, sees the return of audience darling Nae Caranfil, who gets to open this year's festival at the JBFC with his new musical extravaganza, 6.9 on the Richter Scale. International film festival highlights, including Adrian Sitaru's The Fixer and Calin Peter Netzer's Ana, Mon Amour join the party; and so does a contingent of promising first-time filmmakers. It's a hell of a ride, with The Gambler by Ignas Jonynas equally on board—courtesy of this edition's guest country, Lithuania.
New York's longstanding Romanian film festival comes for this edition also to BAMcinématek from December 4-7, with an exclusive program which blends the award-winning works of a brand new generation of talents—including a Balkan Coen-esque thriller, a zany social comedy, and a quiet backwater drama—plus a spotlight on Anca Damian, one of the most compelling Romanian directors working today who has forged a singular path with her visually arresting documentary, narrative, and animation hybrids or her intellectually challenging fiction films.
Guests of this year's festival include directors Anca Damian (this edition's director in focus), Adrian Sitaru (The Fixer), Iulia Rugină (Breaking News), Paul Negoescu (Two Lottery Tickets), Emanuel Pârvu (Meda or The Not So Bright Side of Things), director and DP Adrian Silișteanu (Written/Unwritten, The Fixer), actors Anghel Damian (In Perfect Health) and Vytautas Kaniusonis (The Gambler), and producer Miruna Berescu (Meda or The Not So Bright Side of Things).
As well as introducing these filmmakers' voices to U.S audiences, Making Waves aims to help them connect to, and network within, the American film industry. With this in mind, an industry event will also accompany the festival screenings and gala events.
Corina Șuteu, Festival President, says, "BAMcinématek is the ideal place to put new talent on stage, but also to start a meaningful conversation about the similarities and differences between the Romanian and American film industries. Having a strong platform and a reputation established in New York, Making Waves reinvents itself in 2017 at BAM."
Leading support for the 12th edition of Making Waves was provided by The Trust for Mutual Understanding, the Filmmakers Union of Romania, and Blue Heron Foundation. Film Industry Talks was co-funded by the Administration of the National Cultural Fund of Romania, with the support of Lark Play Development Center.
For this edition we also received a renewed enthusiasm and generous support from many individual donors. To all of them, we want to say a huge thank you!
CIRCLE OF DONORS
Ștefania Magidson & Blue Heron Foundation, Adrian Ghenie, Alexandre Almajeanu, Edward C. Blau, Eva-Maria Preiswerk & Freundschaftsverein Schweiz-Rumänien
FESTIVAL CLUB
$300-$999
Marie-France Ionesco & Lucian Pintilie, Alexandru Salcianu, Stephan Benedict, Andrei Both, Irina Livezeanu, Veronica Lupu, Carmen Paraschiv, Ana Cristea
$100-$300
Bogdan George Apetri, Vlad Bogaciu, Dana Buricea, Mariana Cana, Carmen Comănescu, Mihai Cucui, Adrian Filip, Patrick L. Hagel, The Institute, Richard Jochum, Attila Kim, Ioan Tudor Leu, Jane K. Lombard, Cristina Pașca Palmer, unbtc.ro, Constantin Vulpescu, Robert Wasserman, and Kyoko Hirano.
We want to express our gratitude to documentary filmmaker and human rights activist Mona Nicoară, visual artist Dan Perjovschi, actor Vlad Ivanov and actor Andi Vasluianu, our Festival Ambassador, for their continued support and for championing Making Waves. Special Thanks to Andrew Solomon.
Making Waves would also like to thank 4 Proof Film, Aparte Film, BAC Films, Beta Cinema, Elefant Films, FAMart, Filmallee, Herretic Outreach, Interfilm, Kolektiv, Libra Film, Wide Management.