Film Forum New York = film-forum-ny
BAMPFA Berkeley CA = bampfa
Seattle, WA = seattle-wa
Lightbox Film Center Philadelphia, PA = lightbox-philadelphia-pa
Arizona Romanian Film Festival = phoenix-az
NOW STREAMING = now_streaming
→
Lightbox Film Center Philadelphia, PA
The Romanians: 30 Years of Cinema Revolution
The Lightbox Film Center in Philadelphia was scheduled to join the retrospective tour with a selection running March 12-27, 2020.
Even though the screenings in cinemas had to be postponed, we continue our partnership and co-present some titles in virtual cinema, starting May 29, 2020.
The Lightbox Film Center in Philadelphia was scheduled to join the retrospective tour with a selection running March 12-27, 2020.
Even though the screenings in cinemas had to be postponed, we continue our partnership and co-present some titles in virtual cinema, starting May 29, 2020.
Videograms of a Revolution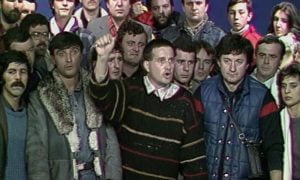 Andrei Ujică & Harun Farocki. 1992, Germany, 106 min
For Videograms of a Revolution, Andrei Ujică and Harun Farocki collected amateur video and material broadcast by Romanian state television after it was taken over by demonstrators in December 1989. The audio and video represent the first revolution in which television played a major role. The film's protagonist is contemporary history itself.
"By the end of the week, and the Ceausescus' executions, nothing is real – or historical – until it is seen on television." – Michael Atkinson, The Village Voice
Director Andrei Ujica in person
(Film Forum, Nov 15, 6:30 pm / BAMPFA, Feb 12)
The Oak
Lucian Pintilie. 1992, Romania/France, 105 min
The Oak is an absorbing, complicated black comedy about Romania at the end of the Ceauşescu regime. A young schoolteacher named Nela embarks on a spiritual journey following the death of her father, a former government official, whose ashes she carries with her in a coffee jar. During her wanderings through grotesque and often violent surroundings, she meets Mitică. The couple, like Tristan and Isolde at the gates of the Orient, cannot pursue their love without disruption. A series of events – floods, pollution, Mitică's arrest, military maneuvers and massacres – split up our heroes, and reveal a backdrop in which nothing works properly and everything seems to be falling apart.
NEW 4K RESTORATION

Actress Maia Morgenstern in person (Mar 13, Lightbox Film Center Philadelphia)
Snails' Senator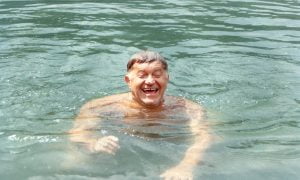 Mircea Daneliuc. 1995, Romania, 112 min
Senator Vîrtosu (Dorel Vișan) spends the weekend at a guesthouse formerly owned by the Communist Party, where in true communist tradition, he's presented with gifts from its employees and petitions from the local villagers. However, his relaxing weekend is disrupted by a crew of Swiss journalists filming in the area. Vîrtosu cooperates with them, trying to make sure the reporters present his country in a favorable light, while hiding certain details from them. This Cannes competition entry reframes Mircea Daneliuc's 1980 The Cruise against the backdrop of a society in transition and adds apocalyptic and Dostoevskian accents to the depravity and penance of the main villain: the Communist Party activist turned member of a democratic parliament. Daneliuc's film is a fierce political satire that thankfully doesn't concern itself with delivering a positive image of Romania.
The Death of Mr Lăzărescu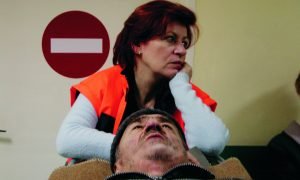 Cristi Puiu. 2005, Romania, 154 min
The film that, for many people, signaled the emergence of the new Romanian cinema, Cristi Puiu's second feature was a revelation at Cannes 2005, where it took top prize in the Un Certain Regard section. A sardonic, darkly humorous, compulsively vibrant feature, The Death of Mr Lăzărescu seems so realistic and convincing, unfolding as though in real time, that it's hard to believe it was acted. As it follows an ailing retired engineer, too fond of booze, who gets carted from one overtaxed Bucharest hospital to another in search of proper medical care, a whole stressed society is laid bare: Each doctor, nurse, paramedic and patient leaps into view with individuality and articulate self-defensiveness. Compassion and indifference clash, often within the same person. The fluid, mobile camera recalls the great works of Fred Wiseman and John Cassavetes.
12:08 East of Bucharest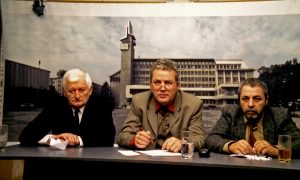 Corneliu Porumboiu. 2006, Romania, 89 min
Winner of the 2006 Camera D'Or prize, this socio-political satire focuses on a group of characters who commemorate the 16th anniversary of Ceaușescu's fall on December 22, 2005. "12:08" refers to the exact time of day when Ceaușescu fled, whereas the original Romanian title roughly translates as "Was There or Was There Not?" (a revolution in our town) – the central question being hotly debated throughout the film. What seems like a formally simple and straightforward story is actually a sophisticated and wryly funny reflection on the scope of the 1989 revolution, and how even recent historical events take on different shapes and meanings in explaining or justifying the present.
Crulic – the Path to Beyond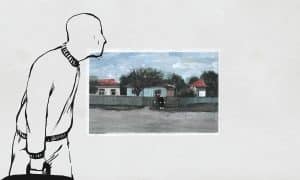 Anca Damian. 2011, Romania/Poland, 73 min
This chilling documentary is "narrated" by Claudiu Crulic, a young Romanian in Poland who was arrested for a crime he didn't commit, only to become a pawn in a Kafkaesque miscarriage of justice that resulted in his death from a hunger strike. Combining innovative hand-drawn, cutout and collage animation techniques, director Anca Damian crafts a devastating portrait of a man who stood up to an uncaring bureaucracy – and paid the ultimate price
Aferim!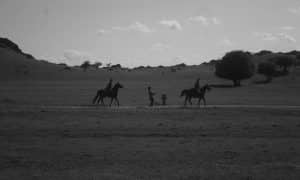 Radu Jude. 2015, Romania/Bulgaria /Czech Republic, 105 min
"Shot in richly toned, wide-screen black and white, Aferim! looks like an elegant exercise in period playacting. But it casts a fierce, revisionist eye on the past, finding the cruelty and prejudice that lie beneath the pageantry." - The New York Times. Radu Jude's international breakthrough is a picaresque odyssey through 19th-century Romania, which tackles one of the most shameful episodes in the country's history: the enslavement of the Roma people. As a bounty hunter and his son scour the mountains for a fugitive slave, they are thrown into a series of encounters by turns scathingly funny or utterly horrifying. Stunningly shot in glimmering, widescreen black and white, Aferim! plays like a classic western spring-loaded with cutting social commentary.