17th Making Waves: New Romanian Cinema NYC
March 30 - April 2, 2023 | Metrograph | Roxy Cinema New York | DCTV's Firehouse Cinema
April 28 - May 4 | Film Forum NYC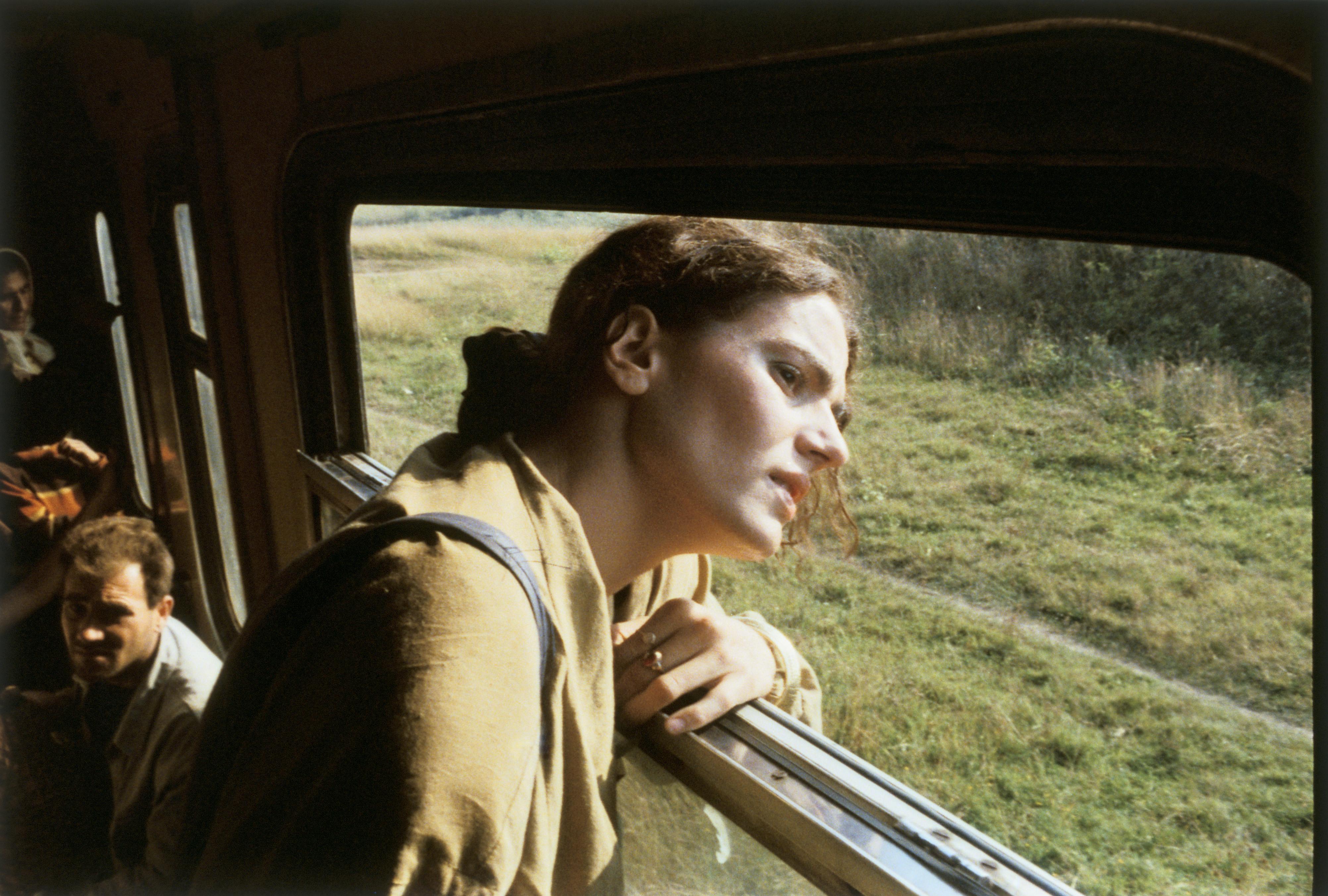 ●Events Great Filter↓
We are happy to announce that the 17th edition of Making Waves: New Romanian Cinema returns with in-person screenings across a network of New York City cinemas.
The festival will run from March 30 to April 2, 2023 at Metrograph, Roxy Cinema New York and DCTV's Firehouse Cinema, who will co-present a surprising selection of recent Romanian productions, with many U.S. Premieres.
A second instalment of the festival will mark the first release of a restored Romanian classic in the US: Lucian Pintilie's iconic The Oak, now in a new 4K digital restoration. The Oak will screen at Film Forum from April 28 to May 4, continuing the festival's collaboration with the legendary New York City cinema in bringing Romanian classics to American audiences.
First-time filmmakers dominate this year's offering, proving once again that the New Romanian Cinema is alive and thriving, complementing an already impressive gallery of celebrated auteurs with an exciting line-up of fresh and promising voices.
Lucian Pintilie's glorious 4K restoration of The Oak and Cristian Mungiu's latest entry in his signature brand of moral thrillers, R.M.N., need no further introduction. Nor does Paul Negoescu's fourth feature, the Coen brothers'-like Men of Deeds, especially after the surprise hit on the American market of his previous comedy Two Lottery Tickets. They also get a well-deserved release in the U.S., therefore a shout-out goes to the remaining five gems in the program, all debut features from gifted directors awaiting to be discovered.
These include Monica Stan and George Chiper-Lillemark with Immaculate, their gripping account of drug addiction, Mihai Mincan and his visually impressive migrant story To the North; anthropologist Cătălina Tesăr and the absorbing portrait of the marriage rituals of a secluded community The Chalice. Of Sons and Daughters, co-directed with the reputed editor and sound designer Dana Bunescu, Sebastian Mihăilescu and his playful take on Romania's infamous dictator's youth in You Are Ceaușescu to Me, and Victor Canache with his rendition of one of the most famous local folk tales, The Goat and Her Three Kids. These films stem either from true stories or from the director's own experience, with the sole exception of the last one, possibly the most surprising of them all, featuring the legendary actress Maia Morgenstern, 30 years after her standout role in The Oak. Visit the Films page for more details, schedule and tickets
Guests of this year's festival include screenwriter and director Monica Stan, Immaculate, director Paul Negoescu and director of photography Ana Drăghici, Men of Deeds, editor, sound designer and director Dana Bunescu, The Chalice. On Sons and Daughters, while The Oak's release will be celebrated with legendary actress Maia Morgenstern in person for select screenings on April 28-29.
THE FESTIVAL AT A GLANCE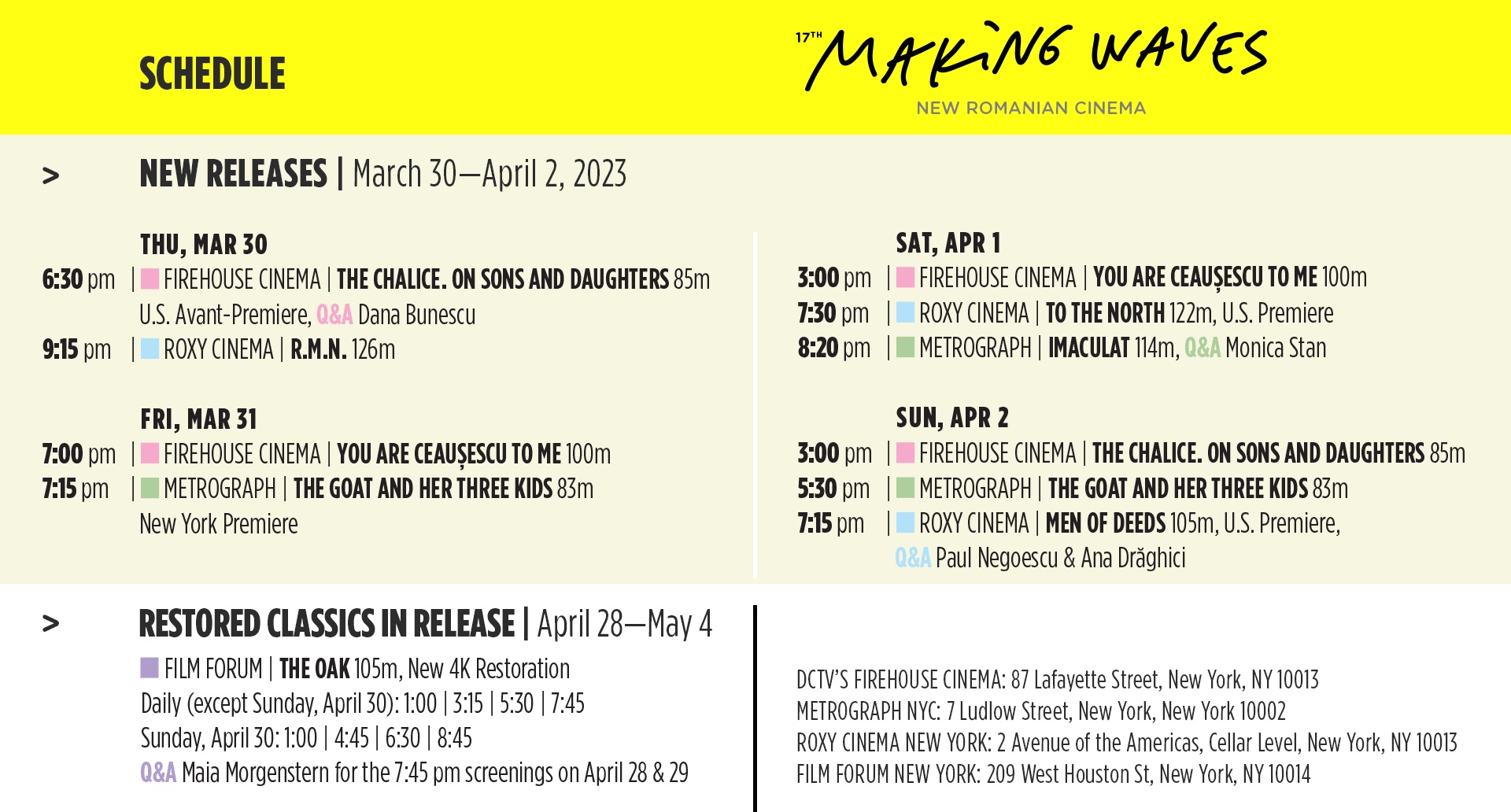 SCREENING VENUES
DCTV's Firehouse Cinema, 87 Lafayette Street, New York, NY 10013 (The cinema's entrance is around the corner on White Street between Lafayette and Centre Streets)
Metrograph, 7 Ludlow Street, New York, New York 10002
Roxy Cinema New York, 2 Avenue of the Americas, Cellar Level, New York, NY 10013
Film Forum New York, 209 West Houston St, New York, NY 10014 (West of 6th Ave)
TICKETS
Tickets are on sale on the webpage of each partner venue. Select the screening time in the Films page to buy tickets.
DCTV's Firehouse Cinema: $17 General, $8 DCTV Members
Metrograph: $17 General, $10 Metrograph Members, $12 Seniors/Disabled customers (the latter can only be purchased in person at the box office)
Roxy Cinema New York: $20
Film Forum New York: $15 General, $9 Film Forum Members, $11 Child (12 and under)
Festival passes are not available, but festival supporters enjoy a series of complimentary tickets. Check details on how you can donate (100% tax deductible) and our benefits.
PARTNERS & SUPPORTERS
The 17th Making Waves is presented by Insula 42 (formerly Film ETC), in partnership with Metrograph, Roxy Cinema New York, DCTV's Firehouse Cinema and Film Forum. The festival and its return to New York City would not have been possible without our supporters. We would like to bring a big thank you to our generous sponsors and individual donors:
The Trust for Mutual Understanding, Ștefania Magidson and Blue Heron Foundation, Adrian Ghenie, Dan Perjovschi, Andrew Solomon, Ovidiu Șandor, Edward C. Blau, Andi Vasluianu, Ana Cristea, Lucien Samaha, Nicodim Gallery, Anda Onesa, Marie-France Ionesco, Alexandru Salcianu, Veronica Lupu, Tudor Leu, Cristian Panaite, Mihai Cucui, Adrian Coman, Stephen McCorkle, Jane Lombard, Bogdan George Apetri, Adriana Guiman, Vlad Bogaciu, Carmen Firan & Adrian Sangeorzan, Kyoko Hirano, Radu Polizu & Anonymous
Dacin Sara, the Romanian Filmmakers Union, Mastercard, the Romanian National Film Center
We are also grateful to our longtime supporters of previous editions, including Richard Pena, Vladimir Tismaneanu, Andrei Serban, Andrei Codrescu, Mona Nicoara, Daiana Voiculescu, Corneliu Porumboiu, Eva-Maria Preiswerk, Marina Draghici, Andrei Both, Serban Savu, Roman Tolici, Moebius Gallery, Alexander Almajanu, and many more!
We are very appreciative for the constant media coverage to Mirela Nagâț, Mihaela Dedeoglu, Revista 22, Dilema Veche, Mihaela Craciun and, in NY, to our publicist, Julia Pacetti, for a brilliant and enduring collaboration.
You can still provide your tax deductible support and take advantage of our benefits.