16th Making Waves: New Romanian Cinema
March 25-31, 2022: ONLINE in the U.S.
December 7-9, 2021 @ Jacob Burns Film Center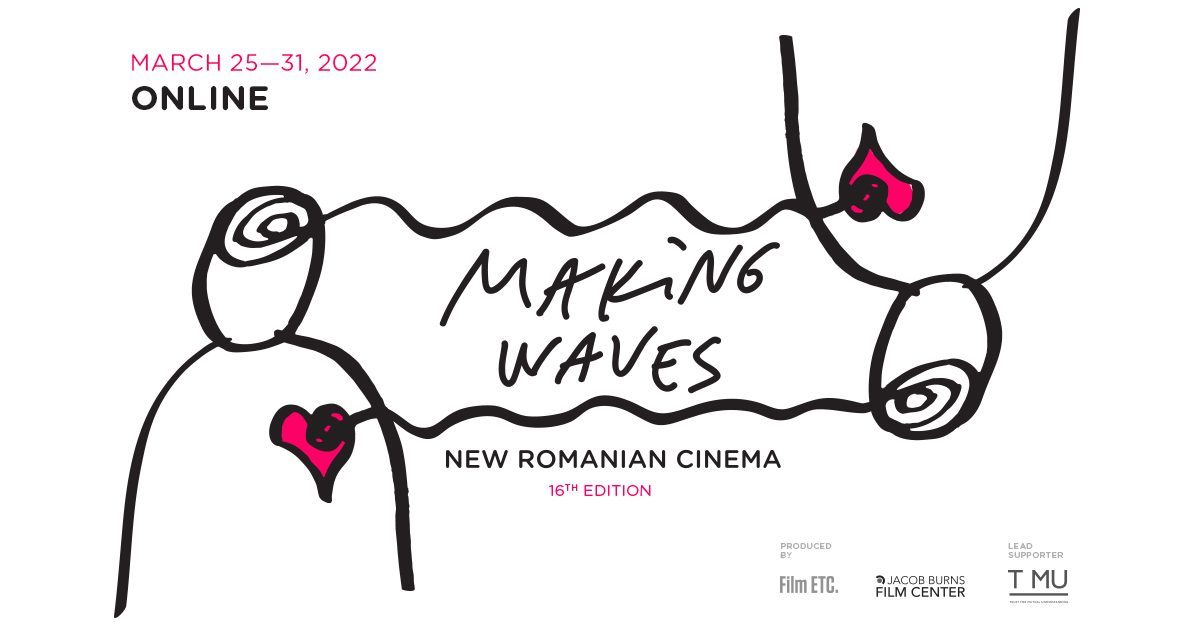 ●Events Great Filter↓
Making Waves 16 continues between March 25-31, 2022 with an extended online showcase, after last December's in-person event at the Jacob Burns Film Center, replaying two of its previous offerings, while adding several fiction works and plenty of documentaries and shorts, including several U.S. premieres.
"These are turbulent times," notes Mihai Chirilov. "Watching films can be a refuge, a therapy. Not that the films we are presenting this year are escapist; the program is by no means a light proposal. It is a mix of political and personal, with violence—either physical or, in most cases, emotional—as a common thread, and a quest of finding peace and harmony. Do not expect blood on the walls or heavy gestures, but a more repressed kind of violence."
Check the full lineup and get your festival passes or individual tickets now! With one exception, the films stream for the entire festival period throughout the U.S.
SPECIAL EVENT
The Tipping Point: On Romanian and European Cinema in Turbulent Times
A special live event will also complement this year's selection: film critic Jay Weissberg will join Corina Șuteu and Mihai Chirilov for a special Insula 42 salon, which will stream live on Facebook on March 26 at 9 am EST/ 4 pm in Bucharest. Jay is an unconditional lover of the Romanian films, very up-to-date and passionate about authors, subjects and recent evolutions. 
TICKETS AND AVAILABILITY
Admission to the festival will be sold either as an all-access pass or à la carte, available in the JBFC Virtual Marquee. Pricing is $75 (members), $90 (nonmembers) for the all-access pass, or $10 (members), $12 (nonmembers) per film.
Certain films in this series can and may sell out, so we encourage ticket and pass purchasers to secure their access by unlocking their films.
All film programs will be available to stream for the entire length of the series—films will become available at 10:00 am EST on March 25 and will be open to start watching until 11:59 pm on March 31. Once a film is started, pass and ticket holders will have 48 hours to finish, regardless of when in the series they start the film.
Films are available to stream in the entire U.S., with the exception of Mikado, streaming exclusively in New York State.
BONUSES
For the 16th edition, we continue to offer not just a carefully curated selection of the best in new Romanian cinema, but also an encounter with the festival's creative team, with filmmakers and actors, with film critics and curators in a series of video bonuses.
A series of exclusive pre-recorded conversations featuring actor Șerban Pavlu (MIKADO), actress Ioana Bugarin (OTTO THE BARBARIAN) and director Eugen Jebeleanu (POPPY FIELD) are available to stream exclusively on the JBFC Virtual Marquee for pass and ticket holders, but you can get a glimpse of these interviews below.
The conversation between Making Waves president Corina Șuteu and artistic director Mihai Chirilov offers insights into the 16th edition's online lineup, whereas Richard Peña, professor of Film and Media Studies at Columbia University, former director of the Film Society of Lincoln Center and New York Film Festival, and one of the most dedicated champions of Romanian cinema in the U.S., introduced all the films presented for the in-person kick-off to this edition:
←
→
PAST: MW16 IN PERSON KICK-OFF (December 7-9, 2021 @ JBFC)
←
→
OUR SUPPORTERS
The 16th Making Waves: New Romanian Cinema is presented by Film ETC and the Jacob Burns Film Center. Lead support for Making Waves is provided by the Trust for Mutual Understanding and the JBFC Program Fund, with additional support from Cărturești bookstores, the Romanian National Film Center and individual donors.
We would like to thank Edward C Blau, Stefania Magidson and Blue Heron Foundation, Marie-France Ionesco, Richard Jochum, Mihai Cucui, Andrei Both, Veronica Lupu, Anda Onesa, Cristian Panaite, Alexandru Salcianu, Adrian Coman, Constantin Vulpescu, Alina Spancioc Pavlakos,  Bogdan George Apetri, Jane Lombard, Dana Buricea, Vlad Bogaciu, Adriana Guiman, Ștefania Ferchedău for their continued and generous support for Making Waves.
Special thanks to Tudor Platon and the Goethe Institut in Bucharest for their support in the production of the pre-recorded interviews.